December, 2013 was celebrated by OKFN, India as the Open Knowledge Month. While we talked with various institutions, both government and non-government, regarding the need for Open Knowledge, our primary focus had been opening up data. India specific datasets are coming up in the Datahub platform, run by the Open Knowledge Foundation. We already have a long list of machine-readable datasets and the good news is that the list is growing everyday. A greater participation on behalf of the citizens of India can help a lot in achieving our dream of Open Governance and Open Data. You are invited to add to the list and visualize the datasets that we already have.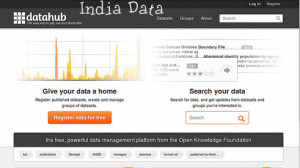 A few of the datasets at India Data include:
All India Pincode Directory, Crude Death Rate India 2011, Crop Wise Irrigated Area Under Land Use Statistics (LUS), Data Base on the Indian Economy, Water Quality Affected Habitations As On 1st April 2012, Number of Buses Owned by the Public and Private Sectors in India during 1961-2012, Ambient Air Quality with respect to Ammonia under National Air Quality Monitoring Programme (NAMP) during the year 2010, Details of Comprehensive Environmental Pollution Index (CEPI) Scores and Status of Moratorium in Critically Polluted Areas (CPAs) in India, Village wise Dugwells in the command of major/medium projects and average pumping hours for 2nd census of minor irrigation schemes, Nirmal Bharat Abhiyan – District-wise Financial Progress As On Date, Water quality of Ground Water – 2008, etc.
In future tools like the CKAN and the Datahub can bring about a system driven entirely by crowd-sourced data-handlers. The very essence of the Open Data and Information Project is to build such a platform, where every citizen will have the right and scope to be directly involved in the process of handling all information related to the country in general and its governance in particular.
'In questions of science, the authority of a thousand is not worth the humble reasoning of a single individual.' — Galileo Galilei.
The Vitayard Open Science and Research, running with support from OKFN, India, has come a long way since its experimental inception in October, 2013. Speaking on the Vitayard Open Science and Research Platform: Watch Here.